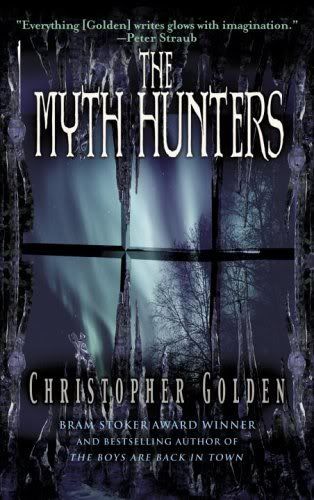 The first in the Veil series by Christopher Golden, the Myth Hunters evokes images of Gaiman's American Gods or
China Mieville's King Rat, with fantastic myths and legends living in a mirrored world of fantasy. The book follows some pretty classic fantasy tropes with the reluctant and somewhat bewildered hero thrust into a land of gods and fantasy. But these aren't always the myths we remember, more often than not they're the ones that originated in the bloody past, primeval things, uncaring for mortal lives.

The protagonist, Oliver Bascombe, is torn from his everyday life by a near death Jack Frost. Accompanied by Frost and the enigmatic and exotic Kitsune, they set out to find what has been targeting the Borderkind, those personifications of myth that can cross freely between the worlds. While on the other side of the veil, his sister and fiancee search desperately for him. Once the Sandman is freed however, the ante is upped, with his sister imprisoned in a dungeon of sand and his fiancee and a detective on the trail of a serial killer with a disturbing pattern.

Anyways, that's enough of an overview without revealing too much of the plot. First off, the writing is excellent, pulling one into the scenes and portraying the characters in a very believable manner. Which is quite a difficult thing to do indeed when one is encountering mad gods and legends. The only trouble I had with the novel was that there was a definite change in tone as the story switched between the various characters. So while at some points it felt almost like fantasy, other portions could be horror or mystery themed. However, I found the effect worked out in the end, as the separate plot threads weaved their way closer together. Overall, an excellent work, with good pacing and wonderful characters. If you have a taste for the myth as reality genre then this is a book for you.